The months of October, November, and December are special as they feature a bevy of holidays. October is the spookiest month of the year as people attend Halloween parties and watch monster movies all month long. December features the joy of goodwill towards men with Christmas, which is followed a week later by the ringing in of a new year. Sandwiched between Halloween and Christmas is the holiday that is near and dear to most Americans' hearts – and their stomachs – Thanksgiving.
Last year, an estimated 54.3 million Americans hit the road over Thanksgiving weekend to be with friends and family. Every year, a staggering 46 million turkeys are processed to feed the hungry mouths of those celebrating the holiday. (1) An interesting fact about turkeys is that they have grown larger over the years while the price per pound has dropped. As compared to turkeys in 1915, the turkey of today has more than doubled in size while the price per pound has plummeted from $7 per pound down to under $2. (2) Overall, the average cost to fix a Thanksgiving meal for 10 people is $48.91. (3)
All About Bathrooms and More loves Thanksgiving as it features the heart of the home, the kitchen. Our design experts have undertaken many kitchen remodeling projects that included the installation of the latest and best ovens that are essential to fixing holiday feasts. Therefore, we offer some interesting oven options to cook the Thanksgiving turkey.
Of course, we recommend that everyone follow the proper safety precautions to help combat the spread of COVID-19. Remember to exercise the proper amount of social distancing and to wear masks. A household can sit together with no problem, but it is recommended that people from other households stay 6′ feet away from others. This means that homeowners will likely have to set up several tables for the holiday feast. Hosting the meal is best done outside, but if this is not feasible, then make sure the indoor space is well-ventilated.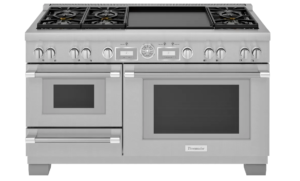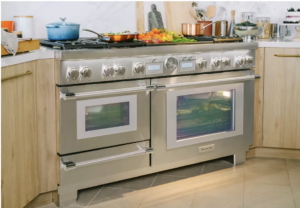 One oven type that the design experts at All About Bathrooms and More love is the double door oven. This type of oven features two ovens in a single range, with one oven being larger than the other one. A good double oven is the GE Slide-In Double Oven Electric Range with Steam Cleaning Oven in Stainless Steel. This oven features a fast preheat option, glass touch controls, and a 6.6 cubit feet double oven that lets you cook a turkey in the larger oven while cooking other dishes in the smaller oven. (4) This oven is also a convection oven. A normal oven uses a single heating source while a convection oven adds a fan and exhaust system, which circulates the heat and cooks the dish from all sides. The result is that food is cooked more quickly and evenly. Being able to cook multiple dishes at different heats more quickly sounds like a blessing for the holidays.
Many of the ovens being made today take full advantage of the latest technology. All About Bathrooms and More loves ovens that allow you to get cooking just by using an app on your smart device. One such oven is the Samsung 6.0 Cu. Ft Front Control Slide-In Gas Range with Smart Dial. This oven features a large 6.0 cubit feet convection oven that can easily handle the largest turkey you can cram into it. (5) You can adjust the temperature and cook time of your oven through an app on your Android or iOS device. Even better is that you can just use your voice to control the oven via your favorite voice assistant, such as Alexa, Bixby, or Siri. Probably the best feature of this oven is the built-in temperature probe. There's no longer the need to open the oven, pull out the bird, and stick in a meat thermometer to find out if it is fully cooked. Now you can actually check the internal temperature of the turkey, ham, or roast by just checking the app on your Android or iOS device.
An oven type that all of us at All About Bathrooms and More are really crazy about is the steam oven. Thermador makes a line of steam ovens that are truly magnificent. These convection ovens use steam to provide heat without having to sacrifice moisture or flavor. These ovens use a 1.4 quart water tank that is filled and inserted into the oven prior to use. Steam allows food to be cooked at lower temperatures as the steam carries latent energy that is released when it contacts the food. The power of convection design with steam results in a 14 pound turkey to be cooked in only 90 minutes. (6) Thermador produces a line of single and double door ovens that allow you to cook your dish any way you wish: broil, steam, true convection, or steam and convection. The Home Connect app allows you to control your Thermador oven with remote and voice control. The app also features a child lock if you wish to make sure your young children cannot turn on the oven themselves.
Cooking a turkey for Thanksgiving is a lot easier than it used to be when using a modern oven. You can wake up in the morning, grab your smartphone, and have the oven preheat as you get showered and dressed. Many oven models feature internal cameras and/or a built-in temperature probe, which allows you to check the progress of the turkey from anywhere in the house or from the car if you're making an extra supply run. These modern ovens allow you to no longer be tied to the oven all day as the turkey cooks. Instead, you can mingle and have fun with your family and friends while occasionally using your smart device to check on the cooking process.
If you have any questions, please feel free to contact All About Bathrooms and More today.
References:
1) https://www.wqad.com/article/life/want-to-impress-your-family-at-the-thanksgiving-table-heres-some-facts-and-stats-about-the-holiday/526-c7a4285a-5cf8-4ff7-a1e3-0db288211cc7
2) https://www.izenda.com/thanksgiving-facts-statistics/
3) https://www.statista.com/statistics/208104/average-price-of-a-thanksgiving-dinner/
4) https://www.homedepot.com/p/GE-6-6-cu-ft-Slide-In-Double-Oven-Electric-Range-with-Steam-Cleaning-Oven-in-Stainless-Steel-JSS86SPSS/313241172
5) https://www.bestbuy.com/site/samsung-6-0-cu-ft-front-control-slide-in-gas-range-with-smart-dial-air-fry-wi-fi-fingerprint-resistant-stainless-steel/6411911.p?skuId=6411911
6) https://www.thermador.com/us/products/ovens/steam-ovens