The most magical part of the year is finally here. Christmas is the time where people look to embrace "goodwill towards men," and children dream of Santa leaving a horde of presents under the Christmas tree. The holiday season brings joy and creates warm memories for both the young and old. While some people spend a small fortune creating massive displays to celebrate the season, there are ways to embrace the season without breaking the bank. The home remodeling experts at All About Bathrooms and More have some inexpensive suggestions on how to bring Christmas into your home.
Normally, this festive season is filled with many group activities, such as caroling, attending holiday concerts, going to school plays, and so on. However, the ongoing COVID-19 pandemic has wrought havoc with such plans this year. All About Bathrooms and More wishes to remind everyone to celebrate Christmas in a safe manner and follow the protocols issued by the CDC. Remember to wear your masks and always engage in social distancing. The number of Americans planning to travel this year for Christmas has dropped by 31 million from the previous year. (1) If you're inviting people into your home this holiday season, then set up several tables so that each individual household can sit together and be socially distant from other households. The best option is to have any meals and unwrapping ceremonies outside, but if you're unable to do so, then make sure the indoor space is well-ventilated. Also, keep plenty of hand sanitizer handy.
Last year, retail sales for the Christmas season was over a trillion dollars, with the average American household spending $1,536. (2) That number is sure to drop this year as 40% of Americans have said they plan on spending less this year. (3) This is obviously due to the pandemic and the unstable job market. Still, there are ways to bring Christmas magic into your home for very little cost.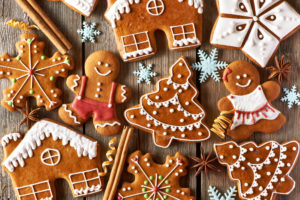 One way to showcase the holiday mood is by baking gingerbread cookies. All About Bathrooms and More are experts at remodeling kitchens, and we know that the kitchen is the heart of the home. What is more inviting on a cold winter's day than the smell of fresh gingerbread men being baked in the oven? The cost is minor if you make them from scratch, and there are dozens of recipes to be found on the internet. Even better is that the entire family can take part in baking (and eating!) the cookies, thus providing a fun holiday activity for everyone.
Another inexpensive way to bring Christmas into your home is to play holiday music. Most towns and cities have a radio station that focuses on Christmas music during December. If you have cable, then there's a good chance you have a music channel devoted to seasonal music you can fire up, usually with a themed visual like a fireplace or a snowy backdrop. Another great option is to look for playlists on Amazon Music and YouTube. Finally, you can buy CDs of traditional holiday music very cheap at most drug and dollar stores this time of year.
Another suggestion by All About Bathrooms and More is to make your own Christmas crackers. These items are more common in the United Kingdom and other Commonwealth countries, but they are slowly making inroads into the United States. Supposedly created back in 1847 in London by Tom Smith, crackers have changed from love messages wrapped around sweets to the wrapped cracker of today, which usually feature a paper hat (normally a crown), a small toy or other gift, and a joke. (4) All you need to create your own crackers are cardboard tubes (paper towels are great), wrapping paper, and the goodies to be stuffed inside. A quick trip to a dollar store will net you the toys and gifts you can put into the crackers. There are numerous videos on YouTube showing how to make your own crackers. While homemade crackers may lack the "snap" of normal crackers, they should put a smile on the faces of everyone.
The design experts at All About Bathrooms and More know that decorations can go a long way in getting people into the festive spirit. A few strings of Christmas lights, bought just for a few dollars, can transform a room into a colorful wonderland. Another decorating idea is to make wreaths out of candy canes. Such an activity is fun and inexpensive as you can buy boxes of candy canes for very little at most dollar and drug stores. Children can have fun creating their own design, and they can be rewarded with some "leftover" candy canes. You can create festive centerpieces for tables by using cake stands. Just stack a few on top of each other and add a candle, some Christmas baubles, some twigs and pine cones (taken from the great outdoors), and even some dried fruit.
Of course, watching some beloved holiday classics is yet another way to bring Christmas into your home. There are DVD compilations that feature classics like Rudolph the Red-Nosed Reindeer, Santa Claus is Comin' to Town, The Little Drummer Boy, Frosty the Snowman, and Cricket on the Hearth for just $15 on Amazon. (5) You can check your local library for holiday-themed DVDs you can check out to watch at home.
Lastly, one way to bring Christmas into your home is to help others. Donate old clothes and toys to those in need. Volunteer at your church. Donate food to the local food pantry or cook some meals to distribute to the hungry. Most giving activities only cost you time, but the rewards can be tremendous. Such deeds also help to instill the true meaning of the season into your young children as well.
Overall, there are plenty of ways to bring the spirit of Christmas into your home without spending a bundle of cash. All of us at All About Bathrooms and More wish you and your loved ones a joyous holiday season.
References:
1) https://www.cnn.com/travel/article/winter-holiday-travel-2020-covid-19/index.html
2) https://fortunly.com/statistics/christmas-spending-statistics/#gref
3) https://www.finder.com/christmas-spending-statistics
4) https://en.wikipedia.org/wiki/Christmas_cracker
5) https://www.amazon.com/Original-Christmas-Specials-Collection/dp/B07GRJM3HW/