Your bathroom design reflects not only your personal taste and style, but also the requirements of your household.  With a working couple, you have a busy master bathroom, especially in the mornings. Your bath requirements may be designed differently than a guest bath that will be used infrequently.  A bathroom intended for a house with small children could have different design requirements than one in a house with no children.  A bathroom renovation is the perfect time to update your style, but also to transform the effectiveness of your bathroom based on the changing needs of your household.
A trend today is to create a more accessible bathroom style. There are many considerations. Do you plan on staying in your home well into your golden years? If so, you might discuss accessibility for any household member who might have mobility issues. 
Is there enough space?
Consider installing a full bathroom on the lower level of your home, giving you access to a full bath without having to go up the stairs.  Multiple levels can present issues to those with mobility issues.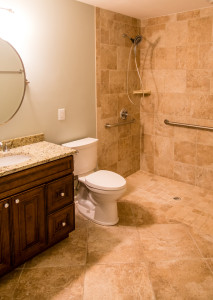 If you need to accommodate a wheelchair, or are thinking about space for someone using a walker or cane, a larger bathroom with more allowance for space around the toilet or sink can make it much easier to maneuver.  Vanity and sink height, as well as the distance to the faucet, can also make a difference in how easy it is to access these areas on a daily basis. All these considerations can be discussed with our experts at All About Bathrooms. 
Bathing Options
With the many bathtub styles, like a freestanding tub are very attractive, tubs can be very difficult to get in and out of when your mobility is reduced.  Some tub styles are more accessible, but best yet is to install a tub that will allow the easiest access..  A shower with an extra-large opening that will even accommodate a wheelchair, will ensure you can easily access your shower. If you are walking in independently, using a cane, or sitting in a wheelchair, these showers have no threshold meaning you will not risk tripping when entering.
For more about the future planning of your bathroom, depend on the experts at All About Bathrooms.
Simply call (720) 524-7546 and speak to one of our designers. They will be able to assist you with your questions and concerns.