Bathroom sinks come in all shapes, sizes, and materials, and choosing the best sink for your remodel is a matter of taste and budget. From simple, white vitreous china sinks available at your local home improvement store to rugged, custom-made concrete or metal sinks, there is a wide variety of options. See our bathroom sink ideas by type of installation: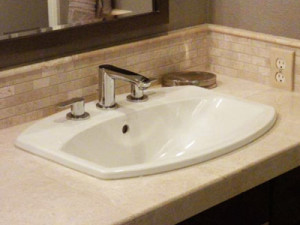 Self-Rimming Sinks
Self-rimming sinks drop into the top of the vanity, and the rim rests on top of your countertop. This type of sink is the most basic and common when you think about bathroom sinks, and they can be installed with most any countertop material. There is potential for dirt and soap scum to collect in the seam where the sink meets the countertop. These sinks also have the potential to leak at the seam, so keep that in mind. Self-rimming sinks are typically easy and forgiving to install.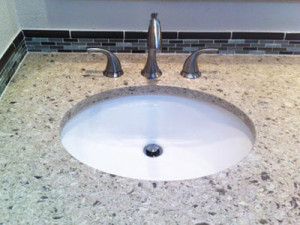 Undermount Sinks
Undermount sinks are attached underneath the countertop surface, providing a clean look and an easy-to-clean surface with no obtrusive rim that collects dirt and grime. This type of bathroom sink installs with clips attached to the underside of the countertop. Undermount sinks are typically installed with granite and other stone or concrete countertops; laminate is not the best choice for an undermount sink.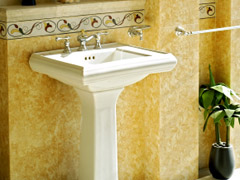 Freestanding Consoles / Pedestals
Pedestal sinks are a great choice for a small bathroom where floor space is at a premium. They are typically used in powder rooms, where counter space and under sink storage are not critical. A console sink is similar to a pedestal sink but usually has 2 or 4 metal legs instead of the single pedestal base. Pedestal and console sinks are typically easy to clean. Many evoke a traditional / Victorian sense of architecture, although some may have a clean, modern aesthetic.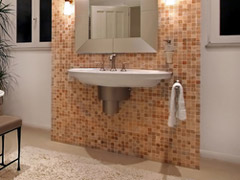 Wall-Mounted Sinks
Wall-mount sinks are like pedestals, in that they save valuable floor space and are great for small bathrooms. Wall mount sinks can be a great choice for period remodels, such as a farmhouse or old Victorian. Cleaning the floor under a wall-mount sink is a breeze, with no legs or supports in your way. Wall-mount sinks are available in traditional or modern designs, and they can be made of any material such as porcelain, glass, metal, or concrete.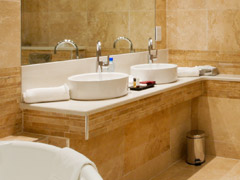 Vessel Sinks
Vessel sinks, also called above-counter sinks, are all the rage right now, but they bring us back to the beginning of indoor plumbing when washbasins were set atop a dresser, cabinet, or side table. Vessel sinks allow for some interesting options for faucets such as a surface mounted faucet or a wall-mounted faucet (which requires pre-planning with your contractor). Vessel sinks can be installed atop any kind of cabinet, like an antique cabinet or a repurposed table.