For many people, the kitchen represents the heart of the home. It is where parents or grandparents teach young children how to cook, where the events of the day are discussed while washing and putting away the dishes, and where families congregate as the eternal question of what's for dinner is always brought up. A growing mainstay in the modern kitchen is the island, that glorified freestanding cabinet that New York apartment owners with their tiny, cramped kitchens look on with envy. The design experts at All About Bathrooms and More have some suggestions on how to build the perfect kitchen island.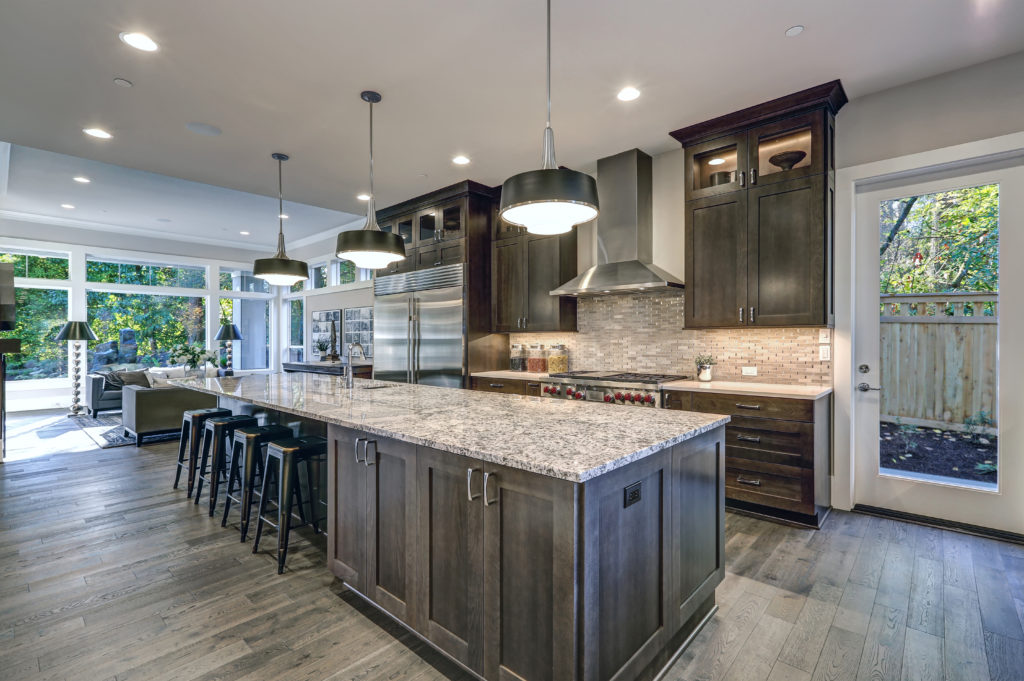 The island has gathered considerable interest from homeowners doing kitchen remodeling projects. A recent study found that roughly 50% of homeowners are adding an island or upgrading their existing one when remodeling their kitchen. 52% of kitchen islands house appliances, such as a microwave, and 98% of all kitchen islands feature storage. The modern island is pretty big as well. 39% of kitchen islands measure six to seven feet, while a third are larger than seven feet. (1)
So, what makes the perfect kitchen island? The answer is entirely up to you. All About Bathrooms and More can show you a huge array of options to make your island a true centerpiece of your home. One design idea is to install an electrical outlet with a USB charger. People today always need to charge up their devices, be it their phone, tablet, or laptop. Children can do their homework while sitting at the island and have the ability to look things up online if need be, all while under the watchful eye of a parent or sitter. Of course, there are quite a few different types of outlets/chargers to choose from. One popular style is a pop-up charger, such as the Lew Electric PUR20-S-USB. This power outlet remains hidden under the surface of the island when not in use and popped up when needed. It features two power outlets and two USB ports. The outlet is IP54 spill proof rated when closed and ½ gallon spill rated when open. (2)
Stools are the norm when it comes to sitting at an island, but they can get in the way. An innovative idea is to install swing out seats. When not in use, these seats can be pushed back, laying flat against the island and not cluttering up the space. 1stDibs has an impressive line of cast iron swing out seats. The seat itself is wood, upgradeable to mahogany, while the support structure is premium ductile iron. (3) Of course, All About Bathrooms and More will ensure that the island has the internal integrity needed to support people using such seats.
Many homeowners like to use their kitchen island for cooking as it allows them to more easily converse with friends and family, as well as keeping an eye on wayward children or watching the TV. There are quite a few options when it comes to a cooktop for the island, such as gas, electric, and induction. Of course, having a cooktop means proper venting needs to be installed as well. Other cooking appliances, such as stove or microwave, can be installed in the island if desired. If needed, a sink can be installed in the kitchen island as well. A great design feature that All About Bathrooms and More recommends is to have a raised eating counter if you use the island for cooking. The eating counter can be anywhere from six to twelve inches higher than the cooking area of the island, thus protecting the diners from cooking hassles like steam or open flames.
Choosing the proper lighting fixtures for your kitchen island is important. All About Bathrooms can show you the almost dizzying amount of options available. There are a good number of styles, such as pendant lights, track lights, recessed lights, and chandeliers, and each style has a multitude of options to choose from. Looking at pendant lights for example, the Poleis 5-Light Brushed Nickle Pendant is a row of five lights that are affixed to a single fixture. (4) By comparison, the Barnyard II 1-Light Bronze Indoor Ceiling Warehouse Barn Light Pendant is just a single light affixed to a lighting fixture. (5) The good news is that there is a lighting fixture system that will fit the style you're looking for.
All in all, All About Bathrooms and More understands it is up to the homeowner to decide what is the perfect kitchen island for them. A family with school-age children will be happy with an island that features a lot of storage space, an area to sit down and do schoolwork, and has an electrical outlet/USB charger to keep all the devices up and running. A true foodie will probably opt for an island designed to help them prep and cook their gourmet meals, such as a lower counter area for kneading dough, a sink to wash off vegetables and fruit, and a state-of-the-art cooktop. The best thing about a kitchen island is that each one can be unique to its homeowner's needs.
If you have any questions about creating your own perfect kitchen island, give us a call today.
References:
1) http://st.hzcdn.com/static/econ/KitchenTrendsHouzz2020Final.pdf
2) https://www.kitchenpowerpopups.com/products/lew-electric-round-pop-up-usb
3) https://www.1stdibs.com/furniture/seating/stools/cast-iron-wood-swing-out-seat/id-f_5025063/