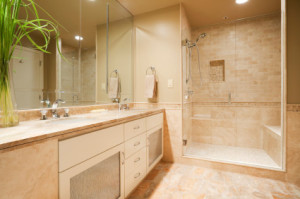 For bathrooms that are tight on space, a new trend is to replace your small bathtub/shower combo with a large shower. Sure, if you are a bath-addict, this solution might not be for you. But, if you are thinking of remodeling your small bathroom, you might consider this space-saving trend, especially if you have another bathtub in the house.
When a shower is put in place of an old tub, the shower will feel large and may even have space for a seat! Depending on the dimensions, your new walk-in shower may even be able to accommodate dual showerheads, a fancy rain shower head, or even a water massage system.
If you can fit a seat in your new shower, consider adding a steam unit! A steam shower will have additional requirements (and costs) to properly build and maintain, so don't forget these important things:
Need a design with walls and a door that completely seals the outside air when in use but allows air to circulate after use to dry shower
Need tile that completely surrounds the shower, including ceiling tile. Ceramic tile is a better choice for a steam shower than natural stone because it is less porous in this tough environment.
High performance silicone caulk that will need to be checked and replaced regularly if the steam unit is used often.
Must have access to all mechanical components in case repairs are needed in the future.
May require additional electrical work and modification to the electrical panel depending on the age of the home.