In the past, there were far fewer options available when a homeowner wanted a kitchen remodeling project done. The choices to be made were usually a tile color, whether to have stainless steel appliances, the make and color of the cabinets, and whether to go with electric or gas-powered appliances. The last few decades have seen an explosion of choices in all areas of the kitchen, and quite a few luxury items can now be had if the homeowner is willing to pony up the money. For those with a fat bank account and a desire to make a statement, All About Bathrooms and More offers up a few high-end kitchen items you'll definitely covet for your kitchen.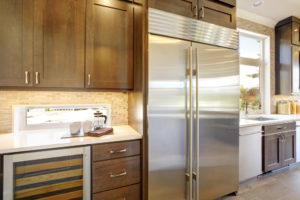 The central piece in any kitchen is the refrigerator. One refrigerator that stakes a credible claim to the peak of refrigerator luxury and technology is the La Cambusa from Italian manufacturer Meneghini. This piece of art costs nearly $41,000 and comes in a wooden frame that can be painted in over 500 different colors. The La Cambusa is fully customizable and comes with a freezer, coffee maker area, steam oven, ice maker, multi-function oven, and a dry storage pantry. The three-door option contains a staggering 26.6 cubic feet of storage space, as well as weighing 1,100 pounds. (1) Popular options include brass handles, glass shelving, flat screen TV sets, and the Miele coffee system, which is about $3,000 in of itself.
Who doesn't love pizza? The kitchen remodeling experts at All About Bathrooms and More can suggest an option better than slapping a frozen pizza on a cooking pan and sliding it into the oven. The ultimate pizza luxury for a homeowner is having their own wood-burning pizza oven. One such option is the Prima 120 from Mugnaini, which boasts an impressive full 48" cooking surface. The Prima 120 is a commercial-grade oven that offers extra thermal mass due to the oven's thicker dome and floor. There are plenty of design options available, which can boost the cost from its basic $9,950 price to $16,000. (2) The Prima 120 can be used for more than just pizzas as it is ideal for baking bread as well.
Wine lovers will enjoy the Discovery WineStation from Dacor. Coming in at a cool $5,299, the Discovery WineStation features automated pouring from four different wine bottles. The entire system is temperature controlled, and its argon gas preservation system will keep wine fresh for 60 days with no loss in taste or aroma. The homeowner can, with just a touch, have the system pour the perfect amount of wine, either a full glass (6 ounces), a half glass (3 ounces), or just a taste (1 ounce). (3) This item is something that most of us at All About Bathrooms and More would love in our own kitchen.
A high-end cooking range that will make foodies drool is the BlueStar 48" Platinum Series Gas Range. Handcrafted in Pennsylvania, this gas range features eight 25,000 BTU burners (with an interchangeable griddle/charbroiler), integrated wok cooking, 1850° infrared boiler, European convection oven that can fit an 18" x 26" baking sheet, and a gentle 130° simmer burner. Customization options include color (over 1,000 available), burner configuration, trim, knob colors, and backguards. The base model starts at $12,695. (4)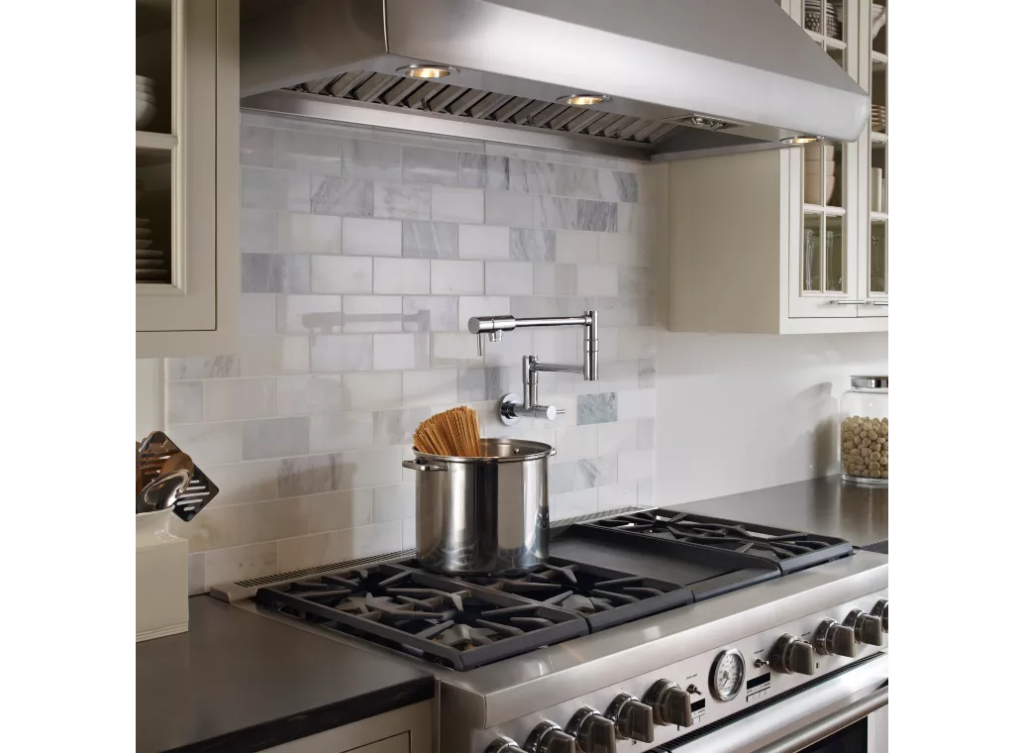 Of course, All About Bathrooms and More understands that not every kitchen item needs to break the bank to be great. One example is the Lita 2-Handle Pot Filler Faucet, which retails for $633. (5) This faucet can be installed above your cooking range. This setup allows you to fill pots with ease and get rid of the hassle of filling up pots in your sink and carrying them to your stove, making it perfect for those with disabilities. The high arch spout gives you the extra reach and clearance you may need when cooking. The faucet features 1-hole installation and conforms to the "lead-free" plumbing requirements in the U.S. Safe Drinking Water Act.
Overall, there are lots of other luxurious, high-end options available for your kitchen remodeling project. If you have any questions or thoughts on sprucing up your kitchen, give us a call today.
References:
1) https://www.businessinsider.com/41000-fridge-does-it-all-2012-10
2) https://www.mugnaini.com/product/prima-120/
3) https://www.dacor.com/our-products/refrigeration/discovery-winestation.aspx
4) https://www.bluestarcooking.com/cooking/ranges/48-platinum-series-range/
5) https://www.pfisterfaucets.com/kitchen/product/lita-gt533-pf-2-handle-pot-filler-faucet?modelNumber=GT533-PFC