Eating has become more than just a way to nourish our bodies. It is a way to connect with our friends and family while enjoying a delicious meal. However, this process doesn't start with the end product of a scrumptious dish, it starts with the preparation thereof.
The kitchen becomes a hive of activity as we prep the vegetables, season the meat or fillet the fish. This is even more evident if you have an open-plan kitchen as you'll be getting meals cooked while conversing with friends and family in the living area.
A kitchen island is a major part of this picture as this is where you'll most likely be doing all of the above prepping. However, this increasingly popular addition to kitchens can be so much more than just a space to prepare food.
Its versatility means that it can act as a dining area or even a bookcase. Let's look at some of the ways that you can use your kitchen island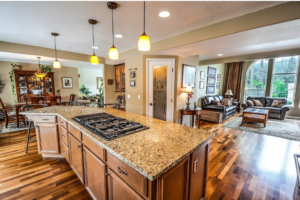 Room divider
Open-plan designs have become increasingly popular over the last several years and with good reason. It allows those who are cooking in the kitchen to still be a part of the conversation and activity of the rest of the house.
That being said, having a kitchen island as a subtle room divider will still give this important room in your house some independence.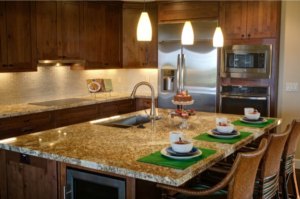 Dining table
This is a great option if you're a bit short on space. Whether you have high chairs on just one side of the island or elect to have dining chairs all around it, this could be a great way to enjoy a cohesive dining experience without losing any space to a formal dining area.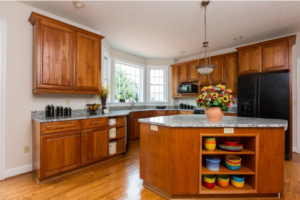 Bookcase or Storage
A beautiful bookcase adds so much character in a room and gives your guests a glimpse into your reading repertoire. However, it can take up quite a bit of space on a wall.
Instead, you can turn the living room-facing section of your island, and even the sides, into a bookcase. You can also store other items here such as colorful bowls or even some indoor herbs.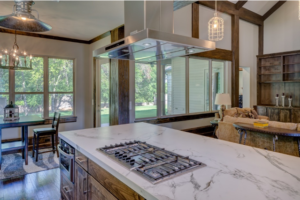 All-in-one Prep and Cook
Depending on the surface area of your kitchen island, you could use it to house your stove top, your kitchen sink, or even just a prep bowl.
This is a highly efficient way of cooking as you can cut your veggies, rinse them and then put them straight onto the stove top.
If you're ready to transform your kitchen with a versatile island, then we can help. Here at All About Bathrooms and More, we have the skills and expertise needed to give you a beautiful kitchen that you'll never want to leave.
Get in touch with us today and find out why we're the preferred choice in Colorado.
References
https://www.homedit.com/10-practical-versatile-and-multifunctional-rolling-kitchen-islands/
https://www.durasupreme.com/blog/versatility-kitchen-island#.XFVZmFwzbIV
https://homemademodernblog.com/2015/03/kitchen-island-with-bookcase.html
Images courtesy of Pixabay.